The Texas Drought Project has had some big successful campaigns over the past 18 months. All of these and the progress on our ongoing work on other campaigns were entirely due to all the people who joined our efforts. Hope you will consider joining our present work!
ACTION ALERT
Austin: 100% Carbon-Free by 2030
On Thursday, August 10th at 6:30pm the City Council will vote on a proposal for Austin to join 29 other US cities in adopting a goal of being 100% Carbon Free by 2030. This is the most important thing we can do in Austin to combat runaway climate change. The warnings of scientists are getting more alarming so in this age of Trump it is important that cities lead the way.
It is vital that this not be a close vote so we want to pack the council chambers & get over a thousand calls & emails to city council offices before the 10th. If the vote is close some council members might change their vote from yes to no. They need to hear from all of us!
Call your council member (512-974-2000) and the Mayor(512-978-2100), Then send an email to the entire city council at http://www.austintexas.gov/email/all-council-members.
Please COME, CALL & EMAIL!
WAYS TO GET INVOLVED
Our two newest and most important campaigns are these statewide projects– DIVESTMENT FROM FOSSIL FUELS and NON-VIOLENT CIVIL DISOBEDIENCE—information below.
In all our campaigns there are myriad ways for you to get involved and do something about your concerns about climate change and our future. If you want to explore getting involved please contact Jere Locke, 512-203-8858, jerelocke@yahoo.com or Cindy Spoon, 210-860-2251, cfspoon@yahoo.com
ONGOING CAMPAIGNS
NON-VIOLENT CIVIL DISOBEDIENCE
This February and March the Texas Drought Project is organizing civil disobedience trainings in Dallas, Houston, Austin, and San Antonio. Texans from all over the state are signing up for these free trainings to learn how to plan and execute safe and effective civil disobedience actions. Some people will choose to risk arrest but others will provide them with much needed support functions. 350.org has wonderful informational material on this as well as our 3rd campaign. Check out the great new documentary from 350.org on the history of civil disobedience.
May 3-15, 2016: On Six Continents, thousands of people took bold action to break free from fossil fuels. Break Free shows what the climate movement can do: Unwavering resistance. Fierce solidarity. Courage by the gigaton.
350.org documentary—Disobedience
Resistance All Over the World— 350.org pictures
Boston Clery Engaged in Climate Civil Disobedience
DIVESTMENT FROM FOSSIL FUELS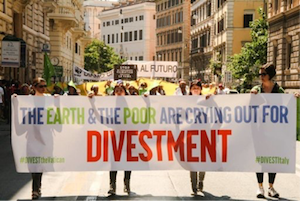 This campaign focuses on cities and universities divesting from fossil fuels. Our current divestment efforts are focused on the city of Austin, TX; though we hope to expand into many other Texas locations. In Austin we are educating through the use of films and literature and presentations to community groups and individuals. Out of this process we are forming local committees to work against continued fossil fuel investment. We need new members of our core group and researchers. Go to 350.org for extensive information on divestment campaigns.
350.org On Divestment
NY Times: University Divestment  & Anti-Apartheid Strategies                         
TEXAS DEMOCRATIC PARTY DIVESTMENT CAMPAIGN
While there are many ways in which a commitment to a fossil-free world can be realized, a major step along the way can begin right here at home, as party leaders plan for the 2018 Texas Democratic Convention. The 2016 convention featured sponsorship by TXU, Luminant, Atmos Energy and CenterPoint Energy, all of which own natural gas or coal production, or distribute electrical power created by those methods. Their facilities contribute to climate change as well as pose health risks to those living in their vicinity. Together they are a remnant of the past, unsuitable for a role in the future.
Click on the Resolution for a full screen, printable version.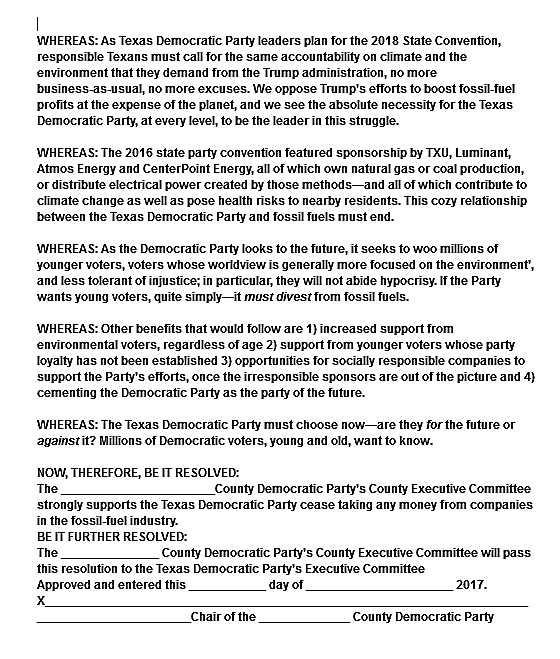 The Texas Drought Project will be reaching out to local Democratic Party chapters across Texas to share our Resolution against fossil fuel sponsorship. The Democratic Party sees itself as the natural political home for millions of younger voters, marginalized  communities and the poor, whose worldview is generally more focused on the environment and less tolerant of injustice. These are the same communities which will be disproportionately impacted by climate change. They likewise have zero tolerance for excuses—by either party–and zero tolerance for further delay in creating a fossil-free world. Business-as-usual and politics-as-usual are very real threats to the lives they envision for themselves. The future about which others speak in empty platitudes is theirs, and for youth, theirs alone.
Environmental degradation occurring under the current administration will accelerate the coming disaster of runaway Climate Change, and it will be too late—too late to choose a side, too late to mitigate the damage wrought upon future generations. The Texas Democratic Party must choose now—are they for the future or against it?
WACO
In this campaign, we are helping to organize a Waco coalition to stop the construction of a 1350MW gas plant nearby. Due to the work of this coalition, the City of Waco is already in discussions with the City of Georgetown about their decision to use only renewable energy by 2017.  We hope that Waco will follow the example of Georgetown to use renewable energy rather than fossil-fuel energy. The first meeting of the Waco coalition was attended by 30 people.
LAKE HOUSTON
Responding to coming drilling on the shores of Lake Houston, Houston's primary water source, we organized a coalition that has been having public hearings in Houston and out near the lake. There is a real possibility the exploratory drilling might lead to fracking. Even if fracking doesn't follow the drilling will be a danger to both the lake and an elementary school less than a half mile away.
PAST CAMPAIGNS
2015 PARIS RESOLUTION CAMPAIGN
In the summer of 2015, the Texas Drought Project began the first of a series of major climate change campaigns. Inspired by the Pope's encyclical and spurred to action by the huge importance of the December Paris UN Climate Conference, we wrote a climate resolution which 228 Texas organizations signed and which was taken to Paris and delivered to leaders there by our supporters.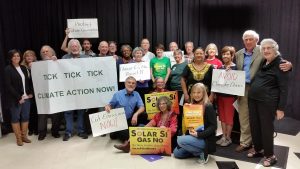 Those Attending Austin Press Conference on 2015 Climate Resolution
Almost a thousand Texans came forward to network, to call upon their boards and committees, to help obtain a total of 228 organizational signatures— from groups as diverse as the League of Women Voters, Texas Farmers Union, Lone Star Sierra Club, Texas Physicians for Social Responsibility, National Nurses United, Texas State Employees Union, Tikkun, Stonewall Democrats of San Antonio and Austin, Public Citizen, Texas Campaign for the Environment, Sisters of Charity of the Incarnate Word and the Texas Civil Rights Project.
When it became clear that the outcome of the Paris conference was the predictable failure we expected, we consulted with  many people and late this past winter undertook four new major campaigns.
TEXAS DEMOCRATIC PARTY STATE CONVENTION, JUNE 2016
Thanks to the untiring and inspiring work of well over a hundred volunteers, over 50 percent of the delegates to the convention  signed our climate change statement despite opposition from parts of the TDP and the disappearance of almost a third of our clipboards with hundreds of signatures.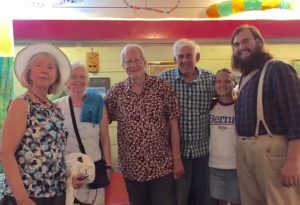 A few of the over a hundred supporters unwinding after our big victory in gathering signatures at the June, 2016 Texas Democratic Party State Convention.
As with the resolution campaign last year all the people who volunteered were the reason for the success of both campaigns. Both were very successful efforts to educate many thousands of Texas about climate and get their organizations involved. Only around 20 of the 228 organizations which signed our 2015 resolution had any mention of climate change or even the environment in their mission statements but seeing the increasing impacts of floods, fires, droughts, and tornadoes they wanted to get involved.